Explore this page and learn about what we serve for breakfast, our history and you can meet the owners of Seagull Inn.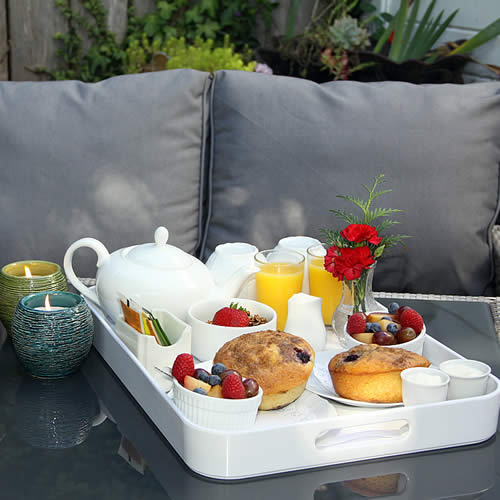 Breakfast in bed? It's your choice! A delicious homemade organic breakfast is served to your room, at the time of your choice, at 8:30, 9:00 or 9:30. Freshly brewed coffee, decaf, tea, hot chocolate or milk; orange juice; fresh fruit; yogurt; as well as muffins, teabreads, coffeecakes, crustless quiche, parfaits or bread pudding. We also accommodate gluten free and vegan dietary restrictions. The breakfast is delicious and filling, and guests are always commenting its amazing quality. The homemade baked goods vary from day to day. Breakfast can be enjoyed in the privacy of your room or in our beautiful gardens or on the deck.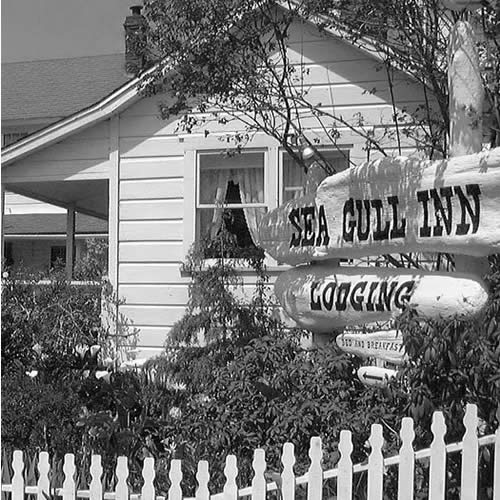 George Switzer was born in Kingston, Ontario, Canada in 1838 and came to San Francisco with his brother John in the early 1860s.
In 1870, George married Elizabeth Hopkins and in 1871 they bought ranch property in Westport, a town 25 miles north of Mendocino. George sold the ranch in 1876 and they moved to Mendocino, and with Alex W. Boyd bought the livery stable on Lansing Street from W.H. Kelley.
In the 1900s the house was sold to the Asa Bishops, then to a Mrs. Honeywell who in 1960 sold to the Martin Halls. The Halls operated it as an inn in the 1960s.
They sold it to Anita Klaus, and she in turn sold it to David and Cathy Jones and Marlene McIntyre in 1984. In 1986 David and Cathy Jones sold their share to Marlene. In June of 2007, Marlene sold to Jim and Ayla Douglas who had been guests at the Inn since 1992. And most recently, in July of 2018, Ian and Kim Roth became the proud owners of Sea Gull Inn!
The Seagull Inn has been, and will continue to be, the best, affordable inn in the heart of the Village. Let us help you relax and enjoy the coast.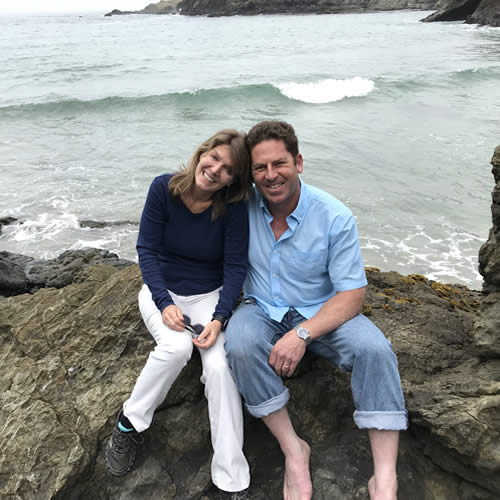 The owners of the Sea Gull Inn, Kim and Ian Roth, have spent their lives traveling around the world as often as they could, yet always going back regularly to the Northern California Mendocino Coast to relax and re-balance. They lived in the Bay Area for over 25 years, and then moved north to Mendocino County in 2011, which allowed them to visit and spend more time on the coast. After their two sons went off to college, they decided to place their pool house "Cabana" on Airbnb and become hosts. This was the beginning of a special journey. They enjoyed sharing and opening their home to guests; they met many interesting, kind, positive people from all over the bay area, California, the United States, and the world. They were bit by the hospitality bug. Sharing and meeting new people brought them happiness. It did not take long for them to write down their dream and make it happen — "Find an Inn for sale, and spend more time on the coast, in the redwoods, on the beaches, in a small community with a positive outlook."
On an early January weekend getaway to Mendocino, Kim and Ian happened upon the Sea Gull Inn in Mendocino and learned it was for sale.
ABOUT OUR GARDENS
We have created naturally beautiful gardens for you to enjoy while visiting Seagull Inn and Mendocino, California.
There is a time for every purpose under heaven: A time to read, to talk with a loved one, to simply sit and think in our gardens.
Please visit the Gallery page for photos of our gardens.
GUEST QUOTE – YELP
"This weekend my boyfriend and I stayed at the Seagull Inn. We got to the inn around 5:30 and it was so nice to be greeted by the staff there. The place is so quaint and fabulous!!! It was centrally located and easy to find! I am sooo thankful for the owners who were absolutely so friendly and helpful! They told us where to go and how to get around. The breakfast in the morning was delicious!!! I guess if I had one suggestion I would say…… actually I don't have one! We will be back!" – Laura, Stockton CA